Artificial Intelligence Applied to Stock Trading
These days, most expert traders and investors draw stock charts, read stock quotes, and follow financial news on their computer screens. Market professionals also use various software for trading and investment analyses. Internet sites such as AASTOCKS.com provide essential online tools for stock quotes, news, research, and simple technical analyses.
Average stock traders, professional or independent, sit at their screens during trading hours, monitoring financial news, examining stock charts, considering all possible trade opportunities. Investors may decide to buy or sell a stock based on a news tip, a grapevine rumor, or on the discovery of a stock showing a typical buy or sell technical pattern. Often they will sit before their screens for many hours without executing any trades, because good picks are hard to find, especially without a systematic search method!
Conventional trading software may let users search for stocks that meet a certain number of criteria, such as specifications of price, volume, and other indicators. However, those tools usually ask the users to input their own search criteria. Unfortunately, most users do not really know what conditions will lead to reliable trading signals. Worse still, because these search tools are too simplistic, they won't yield stocks with the desired pattern except by chance, no matter what search criteria they input.
The remarkable news is that AASTOCKS.com has designed much sharper investment instruments than undependable traditional ones! To find stocks displaying "ideal" chart patterns, we have pioneered a powerful set of pattern- recognition and pattern-search methodologies. Applying these methods and algorithms at five-minute intervals, AASTOCKS runs a computer program that goes through all the liquid stocks traded on the SEHK market to detect all the desired stock patterns. We present each stock found by using our IntelliChart on AASTOCKS. The IntelliChart shows stock charts in the various modes (line chart, bar chart, candlestick chart) using many popular indicators (volume, Bollinger Bands, K/D, RSI and MACD). IntelliChart also draws auxiliary lines (such as support lines, range lines, sides of triangles) and stop-loss lines. These lines enable our traders to recognize chart pattern and visually assess profit and risk potential. Figure 25 shows a typical Cup-With-A-Handle Breakout Trade, identified by the AASTOCKS stock search engine.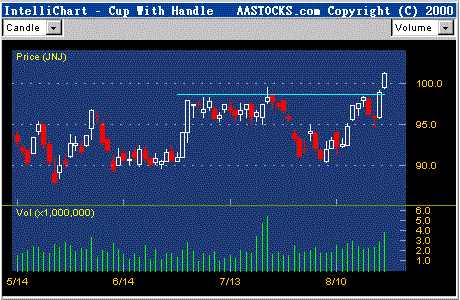 Figure 25. A typical Cup-With-A-Handle Breakout Trade found by AASTOCKS Live Technical Stock-Search Engine
Most investors and traders research target-stocks to find essential performance facts and significant background information; they also try to gain a firm grasp of stock behavior before making any buy or sell decisions. Financial services firms and brokerage houses happily provide their clients with costly research materials and analysis results. Some stock analysts periodically issue newsletter comments on popular stocks. Investors and traders often find those comments helpful because they neatly summarize basic facts and technical characteristics of stocks, providing company and industry profiles along with accounts of past performance; they may also estimate risk and corrections between stock prices and market sector performance. Using these data, investors can then assemble their own views of stock and company performance potential.

Figure 26. An example of our Artificial Intelligence Live Stock Commentary
However, professional investors and independent traders alike still face two major inconveniences: first, summaries and newsletter comments are unavailable for most stocks, and second, even when they are available, these comments are often badly out of date soon after they are released.
The amazing news on this score is that AASTOCKS Live Stock Comment engine overcomes such drawbacks by providing traders with consistent and reliable real -time stock summaries and comments for all stocks! Just as the modern public has witnessed IBM's Big Blue outmaster the masters of chess, the trading world is now beginning to comprehend the potential of Artificial Intelligence in trading applications. To provide the most consistent and incisive stock assessments for all stocks in real time, AASTOCKS.com has recently pioneered its breakthrough invention, the Artificial Intelligence Live Stock Commentary Engine (AILSCE ). Figure 26 shows an example of live stock commentary provided by AILSCE on the Internet. The following is a description of the system:
AASTOCKS has assembled a powerful stock database for historical and real-time data.

AASTOCKS.com has built a powerful stock database to support AILSCE. AASTOCKS stores in its database the daily and intra-day prices and volumes of stocks traded on the SEHK, as well as other fundamental data on all stocks. We have also stored the major indexes and market-sector indexes in our database.

AILSCE retrieves basic quotes and fundamental data for the first part of AASTOCKS stock commentary.
AILSCE analyzes stock price and volume history to generate the liquidity and volatility/risk comments.
AILSCE computes stocks' past performance, along with short-term and long-term trends.
AILSCE evaluates stocks' past return/risk ratios in comparison with larger market trends and with the target stock's own market sector.
AILSCE analyzes the relationship of stocks with the whole-market and market- sector indices; it then computes the betas and correlation coefficients.
AILSCE computes all of the stock's important technical indicators to see if the stock is overbought or oversold.
AILSCE runs the Intelligent Stock Chart Pattern Search program to see if the stock matches any of the typical technical patterns.
AILSCE runs the Artificial Neural Network Stock Prediction Engine to predict the next five-day price movements. It also assesses stock predictability by checking the ratio of the directionality of the predicted prices against the width of the prediction error bands.
Finally, AILSCE combines all the above analyzes to issue AASTOCKS users a complete commentary in plain English (or other human languages).
Neural Network Forecast: AASTOCKS Neuro-Predictor
Numerous hard statistical and scientific studies have indicated that the stock market, as well as other financial markets, are, like other complex natural phenomena, to a certain degree predictable by means of newly developing methods and tools.
Movements of the stock prices, as well as price movements of other financial instruments, generally present a deterministic trend, on which are superimposed some "noise" signals, in turn composed of truly random and chaotic signals. deterministic trends can be detected and assessed by some maximum- likelihood methods. Although a truly random signal, often represented by a Brownian motion, is unpredictable, it can be estimated by its mean and standard deviation. The chaotic signal, seemingly random but with deterministic nature, proves predictable to some degree by means of several analysis techniques, among which the Artificial Neural Network (ANN) techniques have proven most effective over the widest range of predictive variables.
What is Artificial Neural Network, and what is AASTOCKS Neurol-PredictorTM?
The Artificial Neural Network(ANN) is an important branch of Artificial Intelligence. Motivated in its design by the human nervous system, ANN mimics the human nervous system in its operations. At this extraordinary interface between natural human systems and created electronic ones, ANN is capable of learning by training to generalize from special cases--just like human beings can!
The simplified ANN (supervised) training and prediction process can be illustrated by the following stepsThe crucial pre-processing and validation are discussed separately.
Stage One:
Collect the training set, which includes the input data for the ANN to "see" and the known target data for ANN to learn to output. For stock price predictions, for example, the training set and target data would naturally be historical stock prices. A vector of 100 consecutive historical stock prices, for instance, can constitute training data and with the 101st stock price as a target datum.
Stage Two:
Feed the input data to ANN; compare ANN output with the known target, and adjust ANN's internal parameters (weights and biases) so that ANN output and the known target are close to one another梞ore precisely, so that a certain error function is minimized.
Step Three:
Feed ANN some future input data (not seen by ANN); if ANN is well trained and if the input data are predictable, then ANN will give accurate predictions.
Artificial Neural Networks: Proven?
ANN can be trained to adapt to and solve many complicated problems, such as adaptive noise filtering, pattern recognition, and speech processing by voice recognition. ANN noise-filters are now widely used in telephone systems to reduce echo noise and in airplanes to reduce engine noise interference with the pilot's voice signal in communication instruments. [More examples of successful applications of ANN can be found in a report by DARPA (Defense Advanced Research Project Agency)]
The AASTOCKSTM Neuro-PredictorTM is essentially an Artificial Neural Network trained for adaptive prediction of stock prices. During the prediction process, the AASTOCKSTM Neuro-PredictorTM determines whether a particular stock is predictable with the accuracy required for a statistically significant prediction. This is accomplished, essentially, by comparing the ANN validation error against stock price fluctuations. We know that stocks with larger chaotic components and smaller truly random components tend to be more predictable than others. In addition to predicting stock prices, the AASTOCKSTM Neuro-PredictorTM also marks the range that the stock price would stay.
The AASTOCKSTM Neuro-PredictorTM has managed to yield prediction refinements well beyond those of other systems by employing a pipelined recurrent ANN architecture (best for time-series prediction) and an adaptive supervised training procedure. More specifically, AASTOCKS's ANN has been developed to incorporate the strengths of those artificial neural networks successfully used by leading research and industry leaders. ANN pre-processing is based on the Nobel Prize-winning Black-Scholes log-normal stock price model. Efficient computation algorithms have also been developed to realize AASTOCKS's breakthrough in making real-time predictions.
6-month Target is an interactive valuation calculator that provides six-month price targets for stocks specified by users. It has been developed with the prevailing valuation methodologies utilized by leading Wall Street firms. This valuation is based on combined data from over a dozen fundamental variables that significantly influence stock prices, including interest-rate and cash-flow information. While some of the parameters are set by AASTOCKS's historical data, traders can customize the analysis by modifying five important underlying variables: long-bond rate, inflation rate, P/E, sales per share, and a one-year Hang Seng Index outlook, a leading measure of market sentiment.
To use this model, the user first types a symbol in the upper-left corner of the AASTOCKS textbox. Hitting "GO" button. Five modifiable parameters are loaded from database. Once the user changes the parameters and hits the "Recalculate" button, a six-month target price will be generated, along with an opinion on the value of the stock compared against the Hang Seng Index.